Last week I told you about the '52 Weeks of Gratitude Challenge' created by Chelsea of Play. Wash. Rinse. Repeat. I was starting. Last week it was, 'Why Did I Start This Challenge', this week is about 'My Spouse'. Which is fitting because Father's Day is this weekend. I have been with my husband for almost 18 years. We've been married for 7 of those years. Being with him has made these 18 years go by like a flash. It's true, time fly when you're having fun.
I should take you back to the beginning to how I met Jeff. It was an October day in 1996. I went to punch in to start my shift at CVS and there he was behind the counter. A newbie. I had been working there since the summer so seeing a fresh face was always welcoming. I grabbed his vest between my thumb and index finger and said, "nice to meet you Jeff". He looked at me like I'm crazy, or maybe he thought I was flirting with him. I can tell you it was definitely the former and not the latter, as this love story didn't blossom overnight. The more I worked with him the more I loathed him. He annoyed me like no other employee had.

But then one day in the break room a bunch of us were shooting the shit, definitely not on a break and he made me laugh. Not just a chuckle, but a throw your head back and laugh kinda thing. Soon he wasn't that unbearable to be around. The power of laughter my friends. I started to actually to like him, a lot. I began switching my schedule to work when he worked and dressing up with I knew he was around. I had totally caught feelings. But were those feelings mutual? But before I could work on that I had a bigger problem (isn't there always) I had a boyfriend. Thankfully he was on his way out the door and on July 4, 1997 I called Jeff up at work and asked him out on a date. After getting him to recognize my voice and understand that it wasn't a prank, he accepted and the rest is history.
In May 2008 after 11 years together we got married.
No relationship is perfect. We've been through ups and downs over the years but I can tell you the one thing that has never changed is, how much I love him and how the thought of not having him in my life is paralyzing. Which is why when its time to kick the bucket I have to go first because I am not strong enough to being alone here.

I'm not one who is easily able to express my feelings when it comes to my husband. even though that previous statement just said a whole lot. I have a hard time finding the words that would properly convey how I truly feel about him. It's that deep.
But what I can say that I am grateful for is that he's my rock. When I feel down he is the first one to find a way to pick me up. He will paint a bright picture to show me all will be better when I feel all is lost. He's the one who keeps me sane and in order in my world of hectic organized chaos. He has patience where I have none. He has forgiveness and optimism where mine is lacking. We aren't so opposite that we're oil and water, cause we do mix. He's just the ying to my yang. 
I'm also grateful that Jeff is the kind of man who would do anything for his family and friends. His support of anything I want to do is 100%. When I decided that I would not go back to work after our first child he supported that decision despite the financial hardship it would put us in. But he made it work and with some adjusting we're perfectly fine. Which also makes me grateful that he can pinch a penny and balance a checkbook like pro. Or when stepped out on a ledge to start Mommy R+R he was (and is) my biggest cheerleader, as well as my financial backer. Whatever I want I can have it, and I can't get it at that moment he will make it happen for me cause my joy brings him joy.

After we started having children I saw a different side of Jeff. As a father he's amazing! He's present in his children's lives. They adore him. When he puts the key in the door the kids run to him and surround him that he can hardly move, like literally they are on him. I have to pry them off.  To Sierra he's Batman. He saves the day!  And to him they are his life. We complete him. He needs nothing more in life.
Overall I'm beyond lucky to have met someone who wants nothing more than see me smile everyday, spoil our kids rotten and to grow old with crazy ole me. 💗

Each Monday for the next year I will document all of the things I'm grateful for according to the list of topics that Chelsea created. It starts off simple as it talks about why I started this challenge, but as the weeks progress the topics will become deeper forcing me to tap into a part of myself that I keep very private. The idea of sharing that part of me is challenge within itself, but I am ready to do it, otherwise what would be the point of this blog? I haven't shared too much up til this point, so now is a good as any to start digging and start sharing.

If you would like to join the challenge you can do so. Just pop over to Chelsea's site to grab the badge and gets to talking about all of the people and things you're grateful for. If you don't have a blog, that's okay you can share what you're grateful for in the comment section.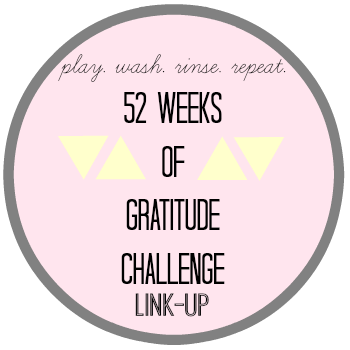 (grab this badge here)
What are some of the things you're grateful for when it comes to your spouse or partner?