I read a lot of websites as I like to follow what other people are doing in their lives. I've made some wonderful friendships this way. Well it was on my weekly blog browse, as I like to call it, that I found the '52 Weeks of Gratitude Challenge', started by Chelsea from Play. Wash. Rinse. Repeat. The purpose of this challenge is to show gratitude towards the people and things in our lives.

Showing gratitude for the people and things in our lives is so important, especially for me since I'm personally going through some things and I've started to think there is no hope. Which made finding this challenge nothing short of a miracle. On the face it seems simple enough but in actuality its very thought provoking as you just be show gratitude for what you have, you'll also be showing appreciation for them as well. Its always easy to think we have it bad, while in the same thought forgetting there is someone out in the world who has it worse who would give anything to be where we are right now.

So, each Monday for the next year I will document all of the things I'm grateful for according to the list of topics that Chelsea created. This week is simple, as it talks about why I started this challenge. But as the gratitude challenge weeks progress the topics will become deeper forcing me to tap into a part of myself that I keep very private. The idea of sharing that part of me is challenge within itself, but I am ready to do it, otherwise what would be the point of this blog? I haven't shared too much up til this point, so now is a good as any to start digging and start sharing.

If you would like to join the challenge you can do so. Just pop over to Chelsea's site to grab the badge and gets to talking about all of the people and things you're grateful for. If you don't have a blog, that's okay you can share what you're grateful for in the comment section.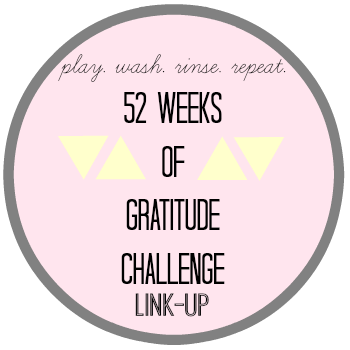 (grab this badge here)
For the week of June 15 I will talk about all the ways I am grateful for my husband and how I will show him my gratitude and appreciation for everything that he does for us as family.
If you wrote a post and would like to add it to Chelsea's '52 Weeks Of Gratitude Challenge' link-up submit your link here. A link with all the participating blogs will appear on the Play. Wash. Rinse. Repeat. website.